Adoption of Physical Optics Theory of Dispersion (PTD)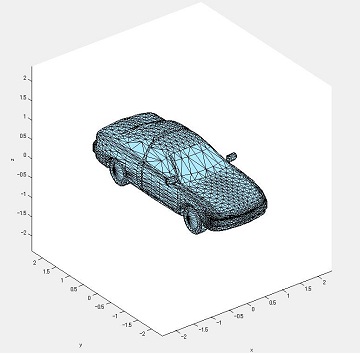 Highly accurate, fast processing PTD method is most ideal for RCS simulation of automobiles, ships, or human bodies.
Because electromagnetic wave dispersion is invisible to the naked eye, the simulation technology has always been the focus in the field. Many techniques such as numerical solutions including the method of moments, physical optics approximation (PO), and the hybrid method that combines the two are being practiced for dispersion evaluation of electromagnetic wave, and among many others, KEYCOM's PTD-adopted software SFW03, a revision of PO, is highly accurate, fast processing and suitable for large models.


Typical accuracy and calculation time of mathematical simulations

| | | | |
| --- | --- | --- | --- |
| | RCS accuracy (A) | Calculation time (T) | Remarks |
| Actual Measurement | A | | Most accurate, measurement environment dependent |
| Numerical solution | 0.9A | T | Highly accurate but enormous calculation required |
| Hybrid method | 0.5-0.8A | 0.1T-0.3T | Most practical, but combination of different methods could cause errors. |
| Physical optics approximation(PO) | 0.3A-0.5A | 0.03T | Simple, quick and suitable for large samples. |
| Physical Theory of Dispersion (PTD) | 0.5A-0.7A | 0.05T-0.2T | Highly accurate, quick and suitable for large samples. |
Features
Substantial GUIs.
Entirely Matlab-based software.
Monostatic and bistatic mode are available.
Positive polarization / Cross polarization processing.
Approximate evaluation of wide areas such as topography and sea surface.
Shading and multiple incidence, reflection, diffraction processing.
Compilation of database for material composition (pallet color).
Supports N (arbitrary constant)-layered materials.
Supports diffractive electromagnetic flow at the edge.
Optimum segmentation of object.
RCS calculation library of standard shapes.
RCS calculation for combined standard shapes.
Specific interfaces for various data classification.
Expansion capability for dispersion in cavity and multiplex transmitted wave.
Expansion capability for Inverse Synthetic Aperture Radar processing.
Customizable upon request.
Measurement Example
※ RCS of automobile, truck, and human body (whole circumference, 24GHz/76.5GHz)
Automobile
Parameters
Object: Automobile
Calculation mode: Monostatic RCS
Angle: 0 ~ 360° (front at 270°)
Dimensions: L 4.7 x W 1.9 x H 1.5 (m)
Frequency: 24GHz, 76.5GHz

Results  Blue: Positive polarization Green: Cross polarization
| | |
| --- | --- |
| 24GHz | 76.5GHz |
| | |
---
Truck
Parameters
Object: Truck
Calculation mode: Monostatic RCS
Angle: 0 ~ 360° (front at 270°)
Dimensions: L 8.2 x W 2.5 x H 3.0 (m)
Frequency: 24GHz, 76.5GHz
Results  Blue: Positive polarization Green: Cross polarization
| | |
| --- | --- |
| 24GHz | 76.5GHz |
| | |
---
Human body
Parameters
Object: Human body
Calculation mode: Monostatic RCS
Angle: 0 ~ 360° (front at 270°)
Hight: 1.7 (m)
Frequency: 24GHz, 76.5GHz
Results  Blue: Positive polarization Green: Cross polarization
| | |
| --- | --- |
| 24GHz | 76.5GHz |
| | |